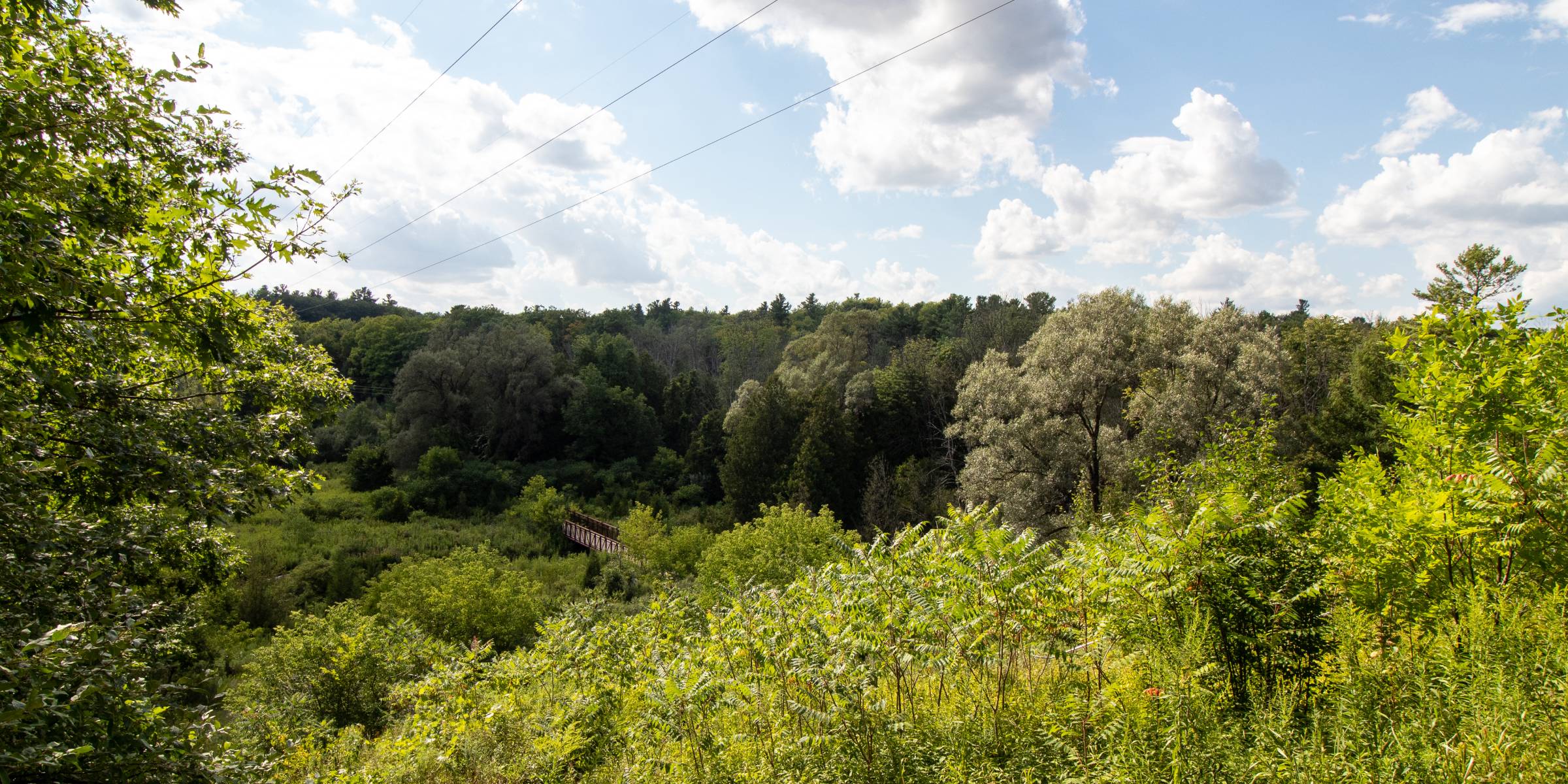 Accomplishments and initiatives
To adapt to the present and plan for the future, the Town of Ajax is constantly developing and implementing projects and programs that address air and water quality, waste management, natural cover and climate change.
The Ajax Climate Risk & Resiliency Plan was approved in June 2019 to provide a strategic framework to address current and future climate change risks. The plan consists of 8 overall objectives related to emergency preparedness and response, natural systems, and flooding and erosion. Since 2019, some of the implemented priority actions include:
Securing $910,000 of Federal and Provincial funding to complete the Kerrison Road Wetland Restoration Project in 2022.
Completion of the Church and Bayly Wetland Project that created 1 hectare of wetland in the Duffins Creek watershed.
Securing approximately 20.25 hectares (50 acres) of land into public ownership for ongoing conservation and management.
Launched the Invasive Species Awareness Program to educate residents about the negative impacts of invasive species on the environment and economy.
Joined the Region-wide Local Enhancement and Appreciation of Forests (LEAF) program, which provides a subsidy to plant 55 trees per year on private, residential property in the Town of Ajax.
Implemented several permeable parking lot installations at the Ajax Waterfront totalling approximately 4400 square meters.
Completed the Stormwater Funding Feasibility Study to recommend a sustainable and reliable funding source to support the Town's stormwater management program.
Approved the Ajax Green Standard to require sustainability-related design guidelines and performance measures for all new development in the Town of Ajax.
Finalized the Lower Carruthers Site Specific Emergency Response Plan in 2021.
And much more!
In 2021, through a Council motion, Ajax set new Corporate and Community Greenhouse Gas (GHG) emission reduction targets as well as joined the Cities Race to Zero Campaign. These motions commit the Town of Ajax to reaching net zero GHG emissions by 2050. To achieve these targets, the Town of Ajax will continue to implement and promote priority, GHG-reducing projects such as the Durham Greener Homes Program, Ajax Green Standard, and upcoming Ajax Green Fleet Strategy.
To continue to increase waste reduction and diversion in Ajax, the Town will continue to promote the Textile Diversion Program (launched in 2021) and the Corporate Ban on Single-Use Plastics. Both of these important initiatives focus on The 5Rs to help divert waste from landfills.
In 2022, several events and programs will provide engagement and education opportunities for the Ajax community, particularly the Ajax Green Living Days annual programming, which included a tree planting event at Greenwood Conservation Area, litter clean-up initiatives, a compost giveaway, virtual and in-person gardening workshops and expert-led webinars.
Quote
"The Town of Ajax will continue to exemplify strong leadership and advocacy to fulfill our vision of becoming a sustainable community. Cross-collaboration between all departments, other municipalities and government partners will be required to ensure that the Town of Ajax proactively mitigates and adapts to the impacts of climate change. Together, we can provide a greener, cleaner and healthier Ajax for all." – Cameron Richardson, Supervisor of Environmental Sustainability & Climate Change, Town of Ajax
Quick Facts
Additional sustainability initiatives include urban forest management, invasive species management, stormwater infrastructure improvements, EV fleet procurement and charging infrastructure, active transportation projects, permeable parking lots and facility energy retrofits.
In September 2019, TOA declared a climate emergency to acknowledge the impacts of climate change and reaffirm its commitment to proactively mitigating and adapting to those impacts wherever possible through continued leadership, advocacy and intergovernmental partnerships.
These initiatives align with objectives outlined in Ajax's 2018-2022 Strategic Plan.
Learn More
For more details on the Town's environmental initiatives and accomplishments, access the report and presentation from the March 28 Council Meeting here.