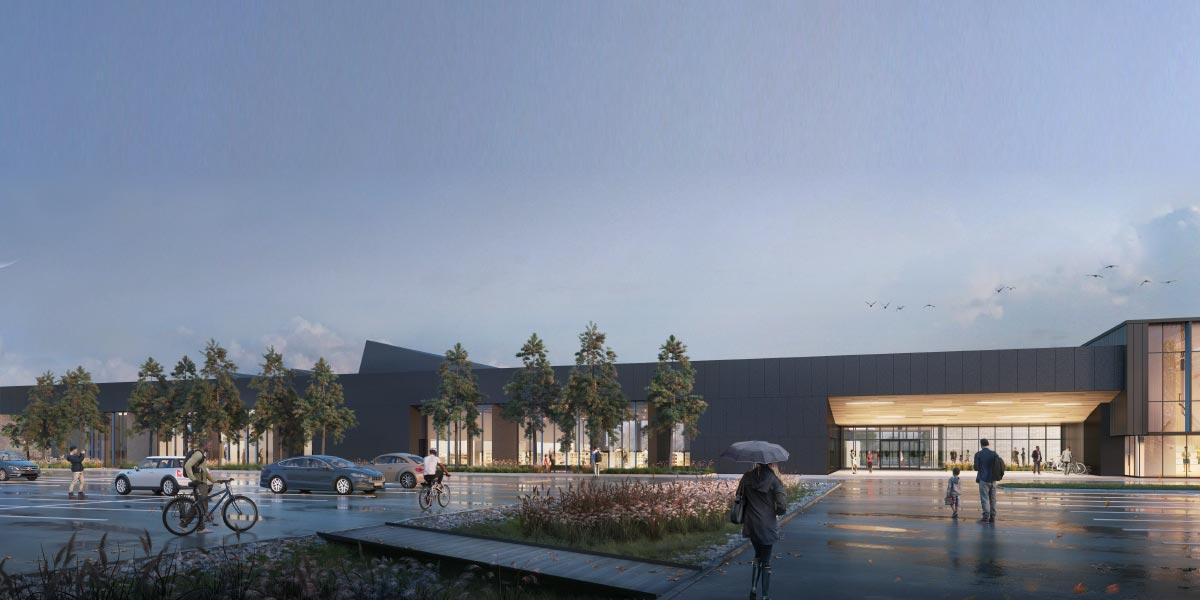 The Town is celebrating the expansion of Audley Recreation Centre (ARC) with its phase 2 opening on Saturday, November 30 from 1 to 3 p.m. Join Ajax Council at 1:30 p.m. for the official ceremony and celebration cupcakes.
Two special giveaways are planned - the first 300 guests will receive a limited edition tote bag, and a Family Reading Prize will be given to the 300th customer to register for a new library card.
Located at 1955 Audley Road N., guests can tour the phase 2 expansion, featuring a new branch library, community halls and active living area. To align with the existing facility, phase 2 was designed to achieve Leadership in Energy and Environmental Design (LEED) certification. Staff will be on-site to answer programming and service questions.
Quotes
"Opened 2013, the state-of-the-art Audley Recreation Centre has become a popular community hub and destination for residents and visitors. This expansion represents Council's ongoing commitment to providing accessible amenities, programs and services to Ajax's growing population. We look forward to celebrating this milestone with residents."

Mayor Shaun Collier
"The 14,000 square foot multi-purpose community rooms located on the eastern end of ARC feature a dedicated entrance off the expanded parking lot and provides an ideal venue to host events, conferences, celebrations and more."

Regional Councillor Sterling Lee, Ward 2
"The 5,000 square foot Active Living Area offers a wide variety of classes for all levels of abilities. Themulti-functional space accommodates concurrent programs including dance, yoga, cycling, sports conditioning, TRX training system balance/strength and virtual programs."

Councillor Ashmeed Khan, Ward 2
"The beautiful new 15,000 square foot library branch features comfortable reading and working areas, private and collaborative study rooms, programming spaces, separate teen and children's areas and internet enabled workstations."

Donna Bright, Chief Librarian
Quick Facts
The Library will be running special programing including:

2:15 to 3:10 p.m. – DuffleBag Theatre presents Robin Hood
3:30 to 4:15 p.m. – Book launch: This is the Rink Where Jack Plays by Stella Partheniou Grasso
4:30 to 5:30 p.m. – Learn for Life: Idea Lab and Maker Stations
4:30 to 5:30 p.m. – Balloon creations with Balloontwistaroo (while supplies last)
6 to 6:30 p.m. – Tamil and English storytelling with Lanka Loganathan
6:30 to 7:30 p.m. – Henna art
Learn More
-30-
Media Contact:
Rachael Wraith, Corporate Communications - 905-619-2529, ext. 3325.