2022 Ajax Community Awards - Making the World a Brighter Place
Each year, the Town of Ajax honours the contributions of outstanding Ajax community members. These awards show the Town's appreciation of the many individuals, groups and businesses who give their time and skills for the benefit of the community.
Nominations Now Open!
Do you know an outstanding community member? Submit nominations for those individuals, groups and businesses who have made a significant contribution to our Town.
There are a number of award categories, including Community Awards, the Ajax Senior of the Year Award, and the highest honour, the Town of Ajax Civic Award.
Ajax Community Awards Nomination Brochure
Complete the online nomination form or download and print the nomination form.
Nomination deadline is Friday, November 4, 2022.
For more information about the Ajax Community Awards program, please contact the Volunteer Management Coordinator at 905-619-2529, ext. 7271.
2021 Ajax Community Awards Recipients:
Ajax Civic Award Adult - Tracy Paterson
Tracy Paterson, CEO of the Ajax Pickering Hospital Foundation, is a longtime resident and community builder in the Town of Ajax.
Tracy has volunteered in a variety of roles with the Ajax-Pickering Board of Trade (APBoT) for more than 20 years. She served as President of the local business support organization in 2006. She continued to hold leadership roles, including Chair of the Board and Co-Chair of Government Relations.
Under Tracy's leadership, the APBoT continued to be a strong voice for businesses, advocating for necessary government and community support, regularly engaging and encouraging their members, shifting to virtual meetings, networking, and educational opportunities. With the betterment of the community as a whole in mind, Tracy made all these events to non-member businesses at no cost as well. They sourced local suppliers of personal protective equipment and struck a partnership to provide small and medium sized businesses with rapid testing kits.
The ripple effect of Tracy's efforts to help local businesses keep their doors open should not be overlooked. Those businesses provide goods and services and jobs, pay taxes, buy goods and services from other local businesses, and sponsor essentially every community event and sport teams.
Over the years, Tracy has supported the leaders of other community-building fundraising efforts through quiet mentorship and consultation. Throughout this pandemic, Tracy has supported the efforts of Community Development Council of Durham's efforts to assist charitable organizations successfully find ways to maintain funding and offer their services which have been needed more than ever.
Ajax Civic Award Youth - Aidon Jack
Aidon Jack is a youth who displays a high degree of integrity, responsibility and ambition. He is an excellent and dedicated young man who is well respected by students and school faculty alike. Aidon's focus and dedication to his studies along with his involvement and contributions to the Ajax community are outstanding. During his time at Ajax HS, Aidon achieved many accomplishments including Honour Roll all four years, highest achievements in Music. Aidon has since graduated from Ajax HS and gone on to post-secondary to study Business at university.
While Aidon devoted much time to his studies, he wanted to engage productively in his community. Starting at the age of 12, Aidon launched his own business, Lawn Warriors Property Maintenance. At fifteen he registered his business and now services the community providing spring clean ups, grass cutting & trimming, sod installation, interlock design and landscaping, and tree removal to name a few. Moreover, Aidon also believes in volunteering his time to a variety of initiatives. By the time he graduated from high school he had amassed one thousand volunteer hours. He engaged in Ajax Tree Planting, Ajax Lend-A-Hand, Ajax Canada Day Celebrations, Ajax Christmas Parade, Rose of Durham, and Operation Christmas Child.
In addition to his scholastic achievements, he has proven his leadership ability through his continuous involvement in the community. Aidon works well with people and is very patient. He is an active member of his church providing service and mentorship to younger students regularly as well as singing in the church choir!
Aidon has successfully located his place as an academic, positive leader and role model for students and others in the community.
Ajax Senior of the Year Award - Joyce Starkman
Joyce Starkman is an Ajax resident (for 54 years), active community volunteer, and longstanding member of the Ajax Probus Club. In late 2019, Joyce was voted in as Ajax Probus Club President. In this role, she has demonstrated outstanding commitment and leadership, facing the challenge of supporting members and navigating the club through the COVID-19 pandemic. In the height of the pandemic in 2020, all club meetings and activities ceased, leaving members disconnected and socially isolated. Joyce, along with the executive, established a member phone tree, and recruited club volunteers to conduct regular phone calls to Ajax Probus members, checking on their well-being, providing information regarding programs and services, and offering social connections. As the pandemic wore on, and it became clear that restrictive public health measures were here to stay, Joyce worked with the executive to transition the Ajax Probus Club onto a virtual platform. It started with member meetings and soon branched out to weekly chat rooms and virtual activities. This provided much needed social connection for older adults and seniors living in the Ajax community. In addition, Joyce made use of the monthly club newsletter to not only connect members, but to provide inspiring messages of hope and pass on vital information regarding vaccines and community supports.
Joyce's volunteer contributions in the role of Ajax Probus Club President provided crucial support to many Ajax older adults and seniors over the course of the pandemic. In addition, Joyce is also a member of the Town of Ajax Age-Friendly Steering Committee and assisted in the compilation many hours of extensive research, outreach to community service providers, and organization and editing to support the group.
Finally, and most recently, Joyce joined the Ajax Library Older Adult Advisory Committee which provides recommendations and advice on Library service matters which have a direct impact on the Library's older adult customers. Joyce's extensive volunteer contributions over the past few years have no doubt enriched the lives of many older adult and senior Ajax residents.
Community Award Recipients
Awarded to an individual, group or business in Ajax who, over the past year or more, has contributed to...
Accessibility Award - Liz Wallis
In late April 2021, the Town was contacted by Ajax resident, Liz Wallis, who reached out to the Town to ask how approval could be sought for installation of communication boards in some of our Ajax parks and playgrounds. She identified that many children have communications challenges and use what are called CORE boards or PECS (Picture Exchange Communication Systems), which is a way of communicating through pictures. She shared this idea in hopes it would be a great way to make Ajax parks and playgrounds more accessible and inclusive to all!
Staff are actively pursuing the project and anticipate to seek budget approval for pilot installation in key locations for 2022. Ms. Wallis' suggestion was shared with other neighbouring Durham Region municipalities, and several others are currently exploring installation of communication boards in their parks, as well.
Ms. Wallis is an Ajax resident truly passionate about accessibility and inclusion. She is the mother of 2 children with exceptionalities, and a social worker with years of experience working with different populations. She has served as Past President for the Durham Down Syndrome Association, created a support/play group for parents of children with Down syndrome, and organized the Durham Region Special Needs Information Fair and Facebook page. Earlier this year, Ms. Wallis opened a Day Program and Respite Centre for youth and adults with developmental disabilities in Ajax called My Happy Place.
Liz Wallis' actions and dedication to accessibility and inclusion in Ajax are extremely deserving of recognition as a 2021 recipient of the Town of Ajax Community Award for Accessibility.
Arts & Culture Award - Ariesha Mais
Ariesha has shown herself to be an invaluable volunteer at Ajax Library. Ariesha has served on the Teen Advisory Committee (TAC) since 2018 and is presently the committee co-president. During her tenure with TAC Ariesha has contributed to several initiatives that focused on developing or supporting the arts in our community.
Earlier this year TAC was approached by the organizers of the Durham Black History Month celebration to create profiles highlighting notable Black Durham residents. To that end, Ariesha completed research and a video profile on Nadia L. Hohn an acclaimed educator and children's author.
Ariesha was one of eight members that worked diligently to complete this project in a short timeframe. The organizers of the Durham Black History Month celebration were extremely grateful for the students' work and the playlist of these videos on the libraries YouTube channel is one of our most viewed series.
In May 2021, Ajax Public Library hosted their annual HeARTBeat Art Show which displays the best pieces from artists from our five local high schools. Due to the closures necessitated by COVID-19 this year's celebration was entirely virtual. To complement our show we invited the selected artists to participate in interviews about their process. Ariesha volunteered to assist with the interviews and came with questions and enthusiasm for the accomplishments of our interviewees.
Another notable project was the TAC Summerfest. This was a new festival devised by the 2020-2021 TAC group. The festival was a celebration of the cultures and geographic regions represented by our extremely diverse committee (South-Asia, Africa and the Caribbean). Ariesha was instrumental in the development and facilitation of this program as she volunteered to represent the Caribbean as an ode to her Jamaican heritage. Ariesha prepared a Caribbean music playlist that was shared publically on our teen Instagram. During the event, which was attended by Councillors Lisa Bower and Sterling Lee, Ariesha performed a poetry reading of poems by Jamaican poet Valerie Bloom. Ariesha read her poems "Granny Is" and "The River" with passion and she connected each poem to her experiences with her family.
TAC runs a teen library Instagram account and Ariesha's art can be seen throughout the feed. An example of note was for the "Women who Inspire Us" campaign for International Women's Day where TAC was tasked with submitting photos or art of non-fictional or fictional women who inspire them. Ariesha submitted two drawings as a contribution. No matter the initiative, the Library has come to rely on Ariesha's contributions to the committee. For her final year with TAC Ariesha sought out the executive position of president.
Community Event Award - Rachel Bugera
Rachel is the founder of a volunteering organization in the community called youth initiatives Durham (yid). She created yid last December with a goal of getting youth involved in the community to help out for the greater good. Since then her organization has amassed over 2200 followers. She has countless organized events and volunteering opportunities for youth such as a food and toy drive, clothing drive, community clean ups, art contests and more. She is constantly involved in the community participating in other events such as run for the cure or a car wash for Beirut. She is also an active member of the Ajax high student council. She thoroughly enjoys volunteering and giving back to her community, always finding ways to get involved. I think she is a deserving recipient of the community award.
Health & Social Service Award - Joan Jothi Saldanha
Jothi Creative Wellness has been on the cutting edge of some amazing community wellness initiatives that have flourished in the wake of the pandemic and through the Founder's personal and family adversities. Some of these initiatives include:
1. HERSpace began in Durham Region, as an in-person gathering and wellness space for self-identified women, back in late 2019. They offer sessions that facilitate learning, sharing and support from a decolonial lens around transition, trauma-informed healing, stress management, and meaningful connection for women by women.
2. Online art making classes for children, youth and adults was a new space for Jothi Creative Wellness. Many community members enjoyed using art making as a tool and outlet for wellness especially for your youth who felt disconnected and disengaged from their peers. This space helped children and youth feel seen, heard, connected and pulled them into some fun creative wellness processes.
3. Jothi Creative Wellness has been offering FREE Community Meditation & Sharing Circles every first Thursdays of the month since 2020 and has seen 100's of folks attend. This space has been a safe and calming space where folks can come and unwind, collectively breathe, find a sense of peace and share vulnerably leaving with a
4. After her daughter was bullied and then diagnosed with Generalized Anxiety Disorder, Social Anxiety, Depression and ADHD, Jothi, the Founder of Jothi Creative Wellness and a School Community Council member, spearheaded the School Community W.I.D.E. (Wellness, Inclusion, Diversity & Equity) Committee at her daughter's school. This has called in students, staff, administrators and parents/caregivers to come together to create initiatives that will improve the experience for our youth and help everyone better understand what their needs are, especially for those who are quiet and cannot speak up for themselves as was the case with Jothi's daughter. Today a Community W.I.D.E. Newsletter with community and school contributions, is being created to amplify the voices of our very diverse community.
5. Jothi has been a volunteer with Community Care Durham for the past 10 years facilitating support for anxiety groups every week and is also on the Advisory Committee for Community Development Council of Durham.
Diversity & Community Engagement Award - Aubrey Noronha
Aubrey Noronha grew up in Ajax and he takes pride in this town and strives to not just be in his community but to be a part of its journey through the people that live here. Aubrey Noronha is a dedicated and loving father and husband to his two children and wife. He has worked in group homes as well as worked as a child and youth counsellor across the region and province within schools and alongside various other professionals.

Although Aubrey has spent his life working behind the scenes to help youth, he in recent years has devoted his time to motivational speaking through his brand "Hello Hope". He has worked tirelessly to network with schools in the area and passionately cultivated relationships with the students and Durham district school board leaders in the community to educate and bring about diversity awareness. He creates a comfortable social setting to allow youth and adults to ask difficult questions about race, diversity, acceptance and what we can all do to make a difference simply with how we see, speak to and support each other every day. He passionately pursues the goal of a future where we all not only support one another but embrace all of the things that make us different and love who we are! He has even found a way to incorporate local artists/musicians into creating positive uplifting music with a "real world" supportive message addressing the struggles youth of all ethnicities can understand and relate to.
Good Deed - Megan Brodofske
Megan Brodofske is an individual who selflessly gives/volunteers in the streets of Ajax and beyond to the Unsheltered People and anyone who comes into her Pathway that needs help pertaining to Housing, Mental Health, Substance Addictions, Alcohol Addictions & Law Enforcement Charges...to name the most common ones of her Volunteering, of having A Passion for All people especially those in Society who tend to be looked down upon because they have made some bad decisions.
Over the past couple of years, Megan has grown tremendously Volunteering in the Community of Ajax and beyond, we have witnessed, Megan in the streets spending time with people who literally live on our streets. Megan will bring them books, food, clothing, she will go on Holidays to just sit and socialize with these Special Individuals that they too would feel a sense of belonging and that someone genuinely cares about them. Megan will also help them to get connected with shelters/treatment centres. And if needed she will transport individuals to these places with their belongings so that they can get the help they need to begin to Live Life Again. And she doesn't stop there, Megan has also stayed as a support to individuals who were afraid to attend treatment or groups just so they could get connected for help.
The Prison Ministry allows Megan to provide support & encouragement to give hope to those incarcerated before they come back out into the communities. She is an Advocate for those struggling with Addictions & Mental Health.
One of the local churches in the area, Christian Faith Outreach Centre has joined with the Town of Ajax and operates The Doors of Compassion (DOC) out of their Church building. Megan was a Volunteer last summer at The Doors of Compassion - DOC (Emergency Shelter) helping to operate the drop in centre for those in need. And this year is one of the Leaders running the Alpha Program for the DOC clients & people of the Community to get connected within their community and to share the Gospel with those who would like to know Jesus and understand the Bible.
Megan is a vital asset & support to our community and beyond. Megan has a Passionate Heart for All people filled with such Compassion, love, humility & excellence.
Education Award - Manahil Saeed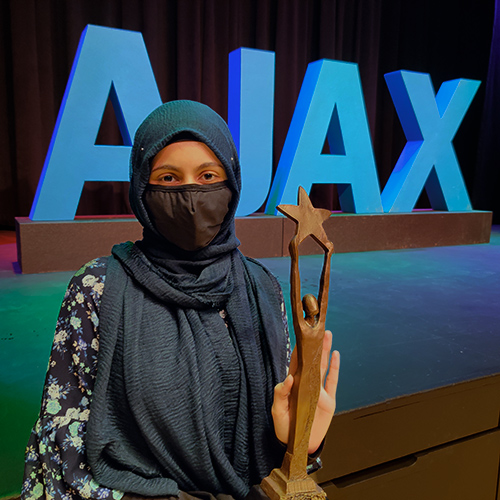 Manahil is a newer member to the Teen Advisory Committee at the Ajax Public Library, she has shown herself to be a diligent and involved member of the group. She currently holds the executive position of first year rep and she has volunteered for every major and minor initiative TAC has undertaken so far this year.
Manahil joined TAC in July 2021. Since joining she has volunteered for all of our endeavors the first being a trivia night where Manahil was one of the volunteers who created questions and PowerPoint slides for the participants to move through. Manahil also participated in the Postcard Pen Pal program where she wrote postcards to the VLS customers living in Senior's Residences.
The majority of Manahil's contributions have centered on research in support of TAC. The committee is currently developing a podcast and for our inaugural episode the students decided they wanted to detail the 2021 Federal Election. To this end Manahil conducted research to help develop the script that the hosts would review during the episode. She provided two submissions of research on separate occasions answering assigned questions. She also developed the graphic that will serve as the thumbnail for the podcast once it launches. The objective of this podcast is to connect and educate teens and the group emphasized an importance of themes centering on social justice. It is partly Manahil's information gathering that will benefit the community when the episode is shared.
In addition, Manahil extends her eagerness to contribute to biweekly meetings. She is always ready to offer suggestions and feedback as to initiatives TAC should undertake. The mandate of TAC is to connect teens in the community with the library and its resources and therefore education is imbued with its goals.
Heritage Award - Dr. Jeremy Barchman
The Town of Ajax takes great pride in its vibrant and storied history. It's the mandate of the Heritage Advisory Committee to promote and preserve our diverse and unique local history by implementing various programs and activities. One such program is our local plaque initiative, which has seen the Committee install more than 30 historical plaques throughout the Town. Covering topics that range from the earliest Indigenous communities to the first European settlers and our unique World War II era contributions, these plaques help residents, and visitors alike, to understand the journey that our Town has made as it evolved from wilderness to farmland to a burgeoning 21st century community.
In the spring of 2019, Dr. Jeremy Barchman contacted the Town to inquire about the possibility of the Town acknowledging Ajax as the birthplace of Daniel David Palmer, the founding father of Chiropractic, who was born in the Hamlet of Audley in 1845. The matter was brought before the Heritage Advisory Committee which agreed to pursue preliminary research about Daniel David Palmer.
The area that now forms the Town of Ajax has been home to many notable people throughout its recorded history: world-class athletes, internationally-renowned artists and other individuals whose achievements have left a legacy in our community and beyond. One such individual that had a substantial impact in the Town is the founder of Chiropractic, Daniel David Palmer.
Born in the area known as Brown's Corners in March 1845, DD Palmer established himself in an entirely new field of medicine that is now practiced by close to 10,000 individuals across Canada and more than 100,000 individuals worldwide. While his legacy is celebrated in other communities, such as Port Perry, Ontario, where he lived as a young adult and Davenport, Iowa, where he eventually established his school, it was right here in Ajax that he was born and spent his formative years.
Dr. Jeremy Barchman is a local chiropractor who, with his wife Dr. Holly Barchman, operates Dynamic Balance Chiropractic at the corner of Church Street and Delaney Drive. He received his undergraduate degree from Iowa State University before graduating with honours as a Doctor of Chiropractic from the Palmer College of Chiropractic (namesake to DD Palmer) in 2005.
It was Dr. Barchman who first relayed a message to Town staff about an approaching anniversary in the chiropractic field. And thanks to this message, on September 25, 2020, a historical plaque was unveiled, dedicated to DD Palmer 125 years after he performed the first ever chiropractic adjustment on September 18, 1895!
Dr. Barchman is a long-standing Ajax resident, community volunteer, and business owner, who is proud of the roots of his profession having such a historic link to his Town. The Committee sees him as an extremely deserving of the 2021 Ajax Community Award for Heritage for having the initiative to bring forward the opportunity to recognize the history and provenance of Daniel David Palmer.
Recreation Award - Sucharita Desu
Sucharita is one of the most consistent presences on the Teen Advisory Committee at Ajax Public Library and she has dedicated herself to supporting TAC's recreational endeavors. Beyond TAC, Sucharita has also volunteered for the Ajax Reading Buddies programs and for the Online Content creation group. These programs, particularly the Reading Buddies directly effect and benefit the community by promoting literacy with our youth.
Sucharita has shown herself to be a dedicated committee member; she seamlessly fills lead and support roles throughout almost all of our programs and meetings. If Sucharita isn't leading the program herself, she has almost certainly created content or attended rehearsals just to support her peers. For example, during Trivia Programs, Sucharita often volunteers to create the PowerPoint question slides that are used during this program. This September, during a Pen Pal initiative with Visiting Library Service customers where student volunteers created postcards for customers in senior residences. Sucharita enthusiastically volunteered and provided hand drawn postcards for this project. As an example of Sucharita fulfilling a supporting role, TAC is currently in the process of creating a podcast. During recording Sucharita attended the Zoom call to provide feedback and encouragement to the hosts on how they sounded as we recorded takes.
As an example of Sucharita assuming a lead role she was one of the hosts and emcees of our TAC Summerfest celebration. Sucharita was instrumental in developing this program which aimed to celebrate the cultures of the geographical regions represented in our committee. To this end, Sucharita prepared a fun script and led the attendees eagerly through the three cultural presentations. Her performance set the tone for the entire presentation.
Working with the TAC Instagram and to connect with the community, Sucharita would frequently provide ideas and links to arts & crafts or baking ideas and she became a reliable consultant to what was current and trendy on platforms such as Pinterest, YouTube and TikTok.
Sucharita consistently demonstrates her commitment to connecting her community and promoting the activities of TAC. She is an extremely organized and present member of their committee and to this end she was nominated to serve as the committee secretary.
Senior Support Award - Peter Walker
Retired for many years, Peter Walker has chosen to use his IT computer knowledge to give back to the community as a volunteer with the Library's Stay Connected program. In this one-on-one weekly program, Peter assists beginner and advanced learners, mainly seniors, develop their tech skills using personal devices (phones/tablets), email, social media (Facebook, Skype) and borrowing Library e-collections (eBooks/e-audiobooks/e-newspapers). The information Peter shares enables participants to stay connected with family, friends and the outside world thus reducing social isolation.
What makes Peter outstanding? Many volunteers come and go at the Library, but Peter has been volunteering for over seven years, and continues to this day. He is well-liked by all his customers, and many of them ask for Peter specifically above all others. Over the years, many of the same customers return to visit Peter every week, demonstrating the rapport he has with his participants.
Peter demonstrates initiative on a weekly basis through his advanced preparation for every session based on the logged query and for the timely feedback he provides to staff re challenges or positive outcomes. Peter exemplifies continuous learning: If he does not immediately have a solution to a question, Peter will investigate until he finds one for the customer and then schedule a subsequent session to review.
When the pandemic started back in March 2020, technology became the main way of keeping in touch. Many customers, especially seniors found this challenging. When Library staff asked Peter if he could switch from onsite sessions to virtual, he did not hesitate to say "YES!". With extra preparation, Peter adapted to using Zoom, transferring his confidence and knowledge to participants. Over 100 Ajax Public Library (new and repeat) customers have virtually benefited from visiting Peter for Stay Connected tech sessions since the pandemic began. Once permitted, Peter has indicated he will again volunteer for in-person sessions which customers and Library staff are eagerly anticipating.
According to Peter, the reason he continues to volunteer for the Library's Stay Connected program is simply "for the sheer joy of helping people".
For more information about the Ajax Community Awards program, please contact the Volunteer Management Coordinator at 905-619-2529, ext. 7271.