This year let's celebrate with Virtual Events and modified In-Person Events! Stay tuned to this page for information on what's happening and how you can get involved.

Get Involved - Find out More!
* Don't forget to subscribe to this page to receive all the updates right to your email
Virtual Events
The Virtual Events will be listed below and placed live at the top of this page. There are events each week and if you subscribe to this page you can be notified directly to your email when updates occur!
Virtual Spirit Walk – Pickering Village History Tour - September 24, 8 p.m.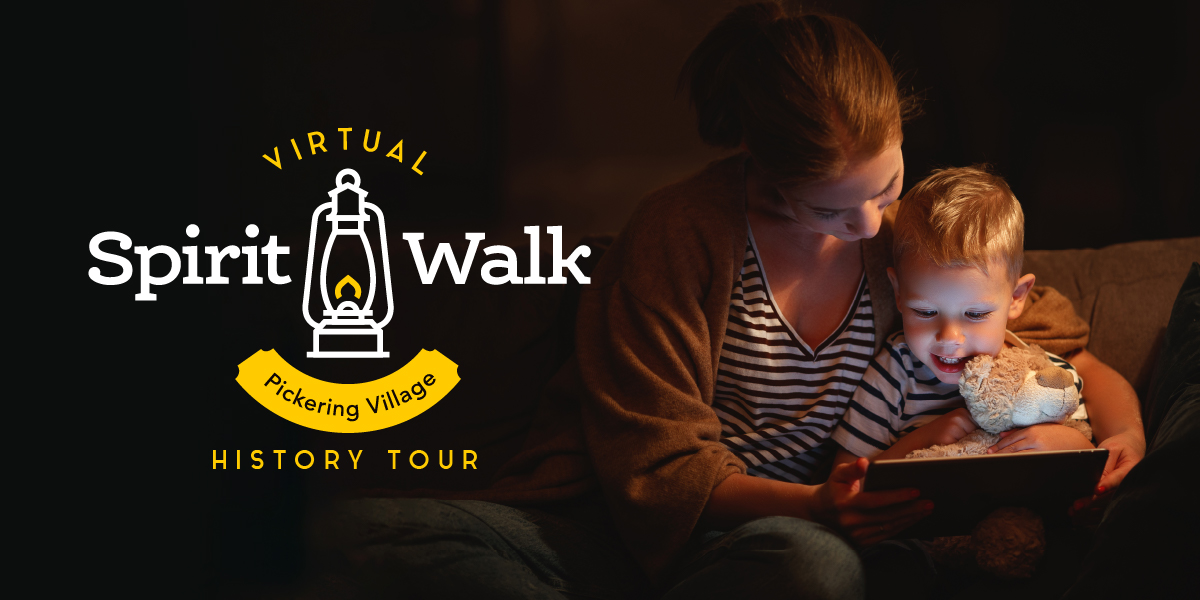 Our popular guided Spirit Walk is once again going virtual in 2021!
Join us online September 24 at 8 p.m. and take a step back in time to discover Ajax's rich history and heritage. Begin the tour through our interactive map from the comfort of your home. 'Spirits' will visit participants' screens and share information about Pickering Village, a historic and vibrant Ajax community.
No registration required for this family-friendly tour. Grab your favourite snacks and refreshments and simply visit this page at ajax.ca/TownEvents on September 24 at 8 p.m. (or after!) to participate.
Summer at Home Performance Series – Wednesday Evenings from July 7 to September 1
Your Wednesday night virtual entertainment destination is back for 2021.
Our Summer at Home Virtual Performance Series runs Wednesday nights from July 7 – September 1, starting at 7 p.m. Musical performances and children's shows will be broadcast live on alternating Wednesdays via the Town's Facebook Page at Facebook.com/myajax and the Town of Ajax YouTube Channel at YouTube.com/TheTownOfAjax.
If you miss a show, don't worry. All shows will be available below once they've aired for your streaming convenience!
Please check back often as we continue to update the full artist line-up!
July 7, 7 – 8 p.m.: Alex Whorms
July 14, 7 – 7:40 p.m.: Sonshine & Broccoli
July 21, 7 – 8 p.m.: Durham Street Band
July 28, 7 – 7:40 p.m.: Soper Creek
August 4, 7 – 8 p.m.: Jess & Tay

August 11, 7 – 7:40 p.m.: Splash & Boots
August 18, 7 – 8 p.m.: 5 Wheel Drive Band
August 25, 7 – 7:40 p.m.: Aaron Matthews – Comedy Magician
September 1, 7 – 8 p.m.: FuhFun Band
Lights! Camera! Buzz In! – A Free Virtual Trivia Series presented by the St. Francis Centre
Do you think you're an expert on all things Disney? Do you catch yourself quoting lines from movies on a regular basis, or singing Broadway show tunes in the shower? Do you think of yourself as a bit of a music historian or pop culture guru?
Well, we've got just the thing for you!
The St. Francis Centre is pleased to present Lights! Camera! Buzz In! – a free virtual trivia series that will test your knowledge on a variety of fun themes. You'll go head to head with other players, trying to climb the leaderboard for some great prizes. Compete every month with themes like Disney, Broadway, Summer Blockbusters, Musical Decades and more!
It's brain bustin' time, Ajax!
Stay tuned for more events coming this Fall!

Registration Information
Register as an individual or as a team with members from your household:
When registering, enter in a team name on the form and use the same team name in AhaSlides.com
Each team will require 2 internet-connected devices to play.
We recommend using a computer with a webcam to see the questions (via Zoom) and a mobile device (smartphone or tablet) to act as your "buzzer" to answer the questions on AhaSlides.com.
AhaSlides.com works best with the Google Chrome Web Browser.
You must register by 6 p.m. before the start of the game to confirm your spot.
Zoom and AhaSlides details will be sent prior to the event.
NOTE: Prizes will have a coordinated pick-up location at the Ajax Community Centre (75 Centennial Rd., Ajax)
After registering, you will receive a confirmation email with further instructions. You can download Zoom at zoom.us and select which version you would like to download, whether it be on a tablet, phone, or computer. We recommend using a laptop or computer for the Zoom session. Participants are then encouraged to use a smartphone or a tablet as their "buzzer". For technical assistance, please email Eric.Berkelmans@ajax.ca.
SunnyTOA - Show Your Community Spirit This Summer!
Ajax Council invites residents, businesses and community groups to participate in SunnyTOA! This special summer-long program is designed to lift spirits, foster connections and inspire hope while staying active and healthy!
Volunteer Eco Team Program
An opportunity for small volunteer eco teams to meet in a COVID-friendly way at various parks and trails throughout Ajax to beautify the Town via community clean-ups. Proper training and PPE for litter collection and sorting will be provided.
Please Note: New Volunteer Eco Teams will be formed starting mid-June.
The 'Best in Bloom' Garden Tour
Ajax is in bloom with beautiful gardens and spectacular flowers! Our front yard self-guided tour offers an opportunity to experience wonderful gardens created by residents and businesses. Whether by car, bike or foot, get outside and follow the flowers! An online interactive garden map allows residents and businesses to add their creative and beautiful locations.
Interested in having your home or business garden featured on our interactive map? Running throughout the summer, simply upload a photo of your garden and choose a category (residence or business), along with the address and dates that your home or business will be in bloom.
Locations can be added at any time, so be sure to check the map regularly to see the new additions!
Cultivate – The 'Best in Bloom' Garden Tour – Interactive Map and How to Use
Check out our interactive map!
Select an option below to enter a location or start your tour.
I want to pin my location as part of 'Best in Bloom' Garden Tour
Enter your location on the top bar "Find your location or address" and press magnifying glass search button.
Click the '+' symbol to add your home or business to the list.
Click on the flower icon that indicates whether you are entering a residence or business.
Click your location on the map, and a blue circle will appear.
Fill out the survey that appears on your screen which includes details about your location and dates of when your garden will be in bloom!
Add a photo of your beautiful blooms! Please note that once a location has been submitted, it cannot be edited.
Click Save! Your location has now been pinned as part of the tour.
I want to plan my 'Best in Bloom' Garden Tour Route
If you are looking for a specific house or business, type in the address on the top address bar. If that address has been included in the garden tour, a flower icon will appear. If you click on the flower icon, information about that particular location will show.
To select a list of locations within a specific radius/area of the town start by clicking the 'select locations' icon ()

Type in an address that you looking for and change the "Show results within" category to whatever distance radius you would like. Click 'Location List' to see the locations within that radius. Click Beautiful Blooms to expand the list.
Click on the tab "Select Points" and select a draw mode. Once an area on the map has been selected, a list will appear. Click Beautiful Blooms to expand the list.

To download a full list of locations, click on the view or export table icon () and follow the steps below:
Click the 'Options' tab on the right side and click on Export all to CSV.

Click OK and the list will download automatically.

Open file, click save as and as in desired location as an Excel Document.

Open as desired.
In-Person Events
No in-person events at this time.
Past Events
Get Involved!
2021 Festivals and Events Entertainers - Apply Now!
Now accepting entertainer applications for all 2021 Festivals and Events. Whether you are a band, solo artist or children's entertainer, we want to hear from you!
Become a vendor or exhibitor at our festivals and events!
Due to COVID-19 we are not currently accepting any vendors or exhibitors. If you are interested in becoming a vendor for 2021 Festivals and Events, please send an email to events@ajax.ca as an expression of interest.
Become a sponsor at our festivals and events!
Become a sponsor of our upcoming Virtual and In-Person events. Please call 905-619-2529, ext. 7248 or email events@ajax.ca for more information.
Volunteer at our festivals and events!
Due to COVID-19 we are not currently accepting new volunteers at this time. To learn more about our volunteer program visit our Volunteer page.