This year let's celebrate with Virtual Events and modified In-Person Events! Stay tuned to this page for information on what's happening and how you can get involved.

Get Involved - Find out More!
* Don't forget to subscribe to this page to receive all the updates right to your email
Virtual Events
The Virtual Events will be listed below and placed live at the top of this page. There are events each week and if you subscribe to this page you can be notified directly to your email when updates occur!
Summer at Home Performance Series – Wednesday Evenings from July 7 to September 1
Your Wednesday night virtual entertainment destination is back for 2021.
Our Summer at Home Virtual Performance Series runs Wednesday nights from July 7 – September 1, starting at 7 p.m. Musical performances and children's shows will be broadcast live on alternating Wednesdays via the Town's Facebook Page at Facebook.com/myajax and the Town of Ajax YouTube Channel at YouTube.com/TheTownOfAjax.
If you miss a show, don't worry. All shows will be available below once they've aired for your streaming convenience!
Please check back often as we continue to update the full artist line-up!
July 7, 7 – 8 p.m.: Alex Whorms
July 14, 7 – 7:40 p.m.: Sonshine & Broccoli
July 21, 7 – 8 p.m.: Durham Street Band
July 28, 7 – 7:40 p.m.: Soper Creek
August 4, 7 – 8 p.m.: TBD
August 11, 7 – 7:40 p.m.: Splash & Boots
August 18, 7 – 8 p.m.: 5 Wheel Drive Band
August 25, 7 – 7:40 p.m.: Aaron Matthews – Comedy Magician
September 1, 7 – 8 p.m.: FuhFun Band
Canada Day The Durham Way
Get ready to celebrate Canada Day The Durham Way, a virtual and interactive celebration full of amazing activities including a virtual presentation, personalized Canadian playlist, scavenger hunt, spirit campaign and a Celebration Kit giveaway (registration is required).
After the successful launch of this event in 2020, we're coming together once again as a Region, in co-operation with the Region of Durham and all eight local-area municipalities.
The pre-festivities begin now! Find out below how you can get involved and make sure to check back regularly for updates and additional release dates.
Paint the Region Red Spirit Campaign
Show your national pride by sharing photos on social media. Let's 'Paint the Region' in red & white and unleash our patriotic spirit!
Residents, businesses and community groups are encouraged to decorate themselves, their homes, business windows, storefronts or lawns with a Canada Day or red and white theme, then simply snap a photo and share it on social media.
All social media submissions will be entered into a draw to win 1 of 9 prizes including Canada Day The Durham Way prize packs (valued at $200 each!) and the grand prize – a Canada Day BBQ Package!
Post your photos and tag us on Facebook, Twitter, and Instagram for a chance to have your photos featured in the Canada Day spirit montage.
Step 1: Take a photo or record a video of you showcasing your Canada Day Spirit
Step 3: Share with your family and friends.
Step 2: Send us a copy of your picture either by DM on Facebook (@myAjax), Instagram (@TownofAjax) and/or @durhamtourism using #CanadaDayTOA
If you are not comfortable sharing your photo on social media, entries may also be emailed to events@ajax.ca.
Deadline to enter is July 2, 2021 at 4:30 p.m.
Note: Submissions received before June 18, 2021 at 4:30 p.m. may be featured on the Region-wide virtual Canada Day celebrations.
Canada Day Playlist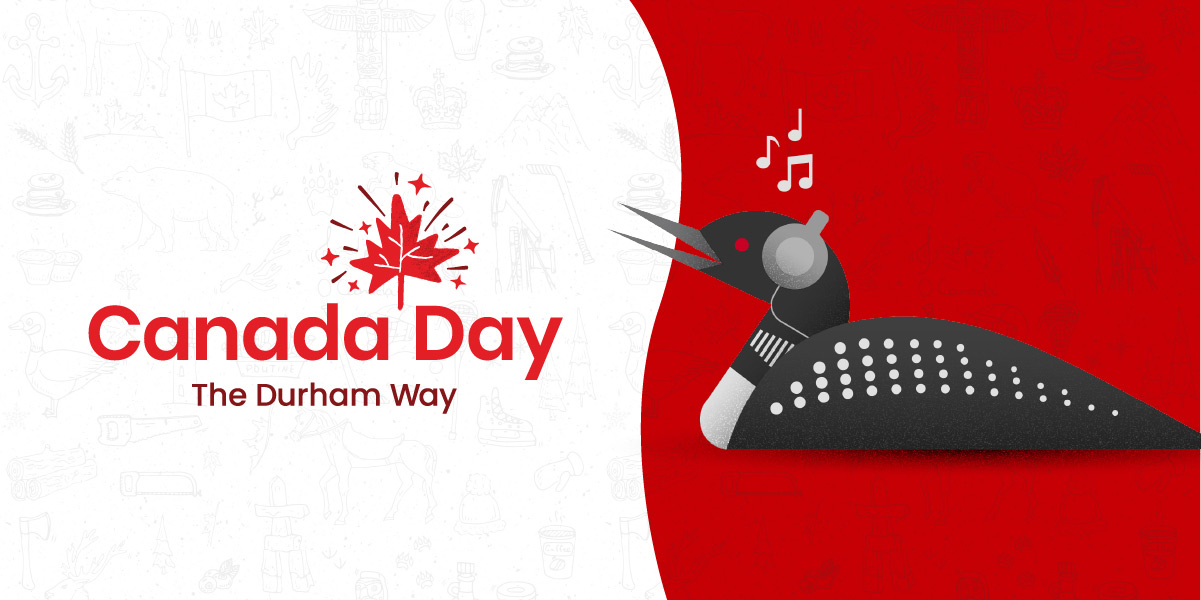 Looking for the perfect soundtrack for your Canada Day celebrations? Help us build the ultimate patriotic playlist to get you feeling red, white and proud!
What songs are embedded in the soul of every Canadian? What local artists call Durham Region home? To keep you entertained, we're rounding up the best of the best in Canadian and local music.
Submit up to 5 songs to be added to the Canada Day The Durham Way playlist. Then on Canada Day – cue it up for hours of Canadian and Durham musical talent!
All submissions will be entered into a draw for a chance to win a fantastic wireless outdoor speaker!
Playlist will be available starting June 30 on Spotify, through this page and through the Canada Day The Durham Way website at durham.ca/canadaday.
Please ensure song submissions are family-friendly. We reserve the right to exclude songs deemed unacceptable.
Celebration Kit Giveaway
Kick off Canada Day with your family and The Town of Ajax! Pick up a free pancake breakfast kit and start your July 1 celebrations the Canadian way! Kits include local Maple Syrup, Maple Candy, Cookies and Pancake Mix!
Pick-ups will take place on Thursday, June 24 at the Ajax Community Centre - 75 Centennial Rd., Ajax (Centennial Road Entrance near Ice Pad 4). Pick-up will be done through a curbside manner with all participants respecting physical distancing requirements.
To ensure everyone's safety, kit pick-up times are being scheduled to stagger numbers. Each pick-up has a set number of registrants allowed per time slot. If the time you want is full, please select the next available time.
Celebration Kits are sold out and the waitlist is full!
Thank you for your overwhelming interest!
Please Note: Only a certain number of kits are available with a limit of one kit per family. Registration is on a first come, first served basis. Open to Ajax Residents only. Must provide ID with address along with registration confirmation upon pick-up.
Canadian Trivia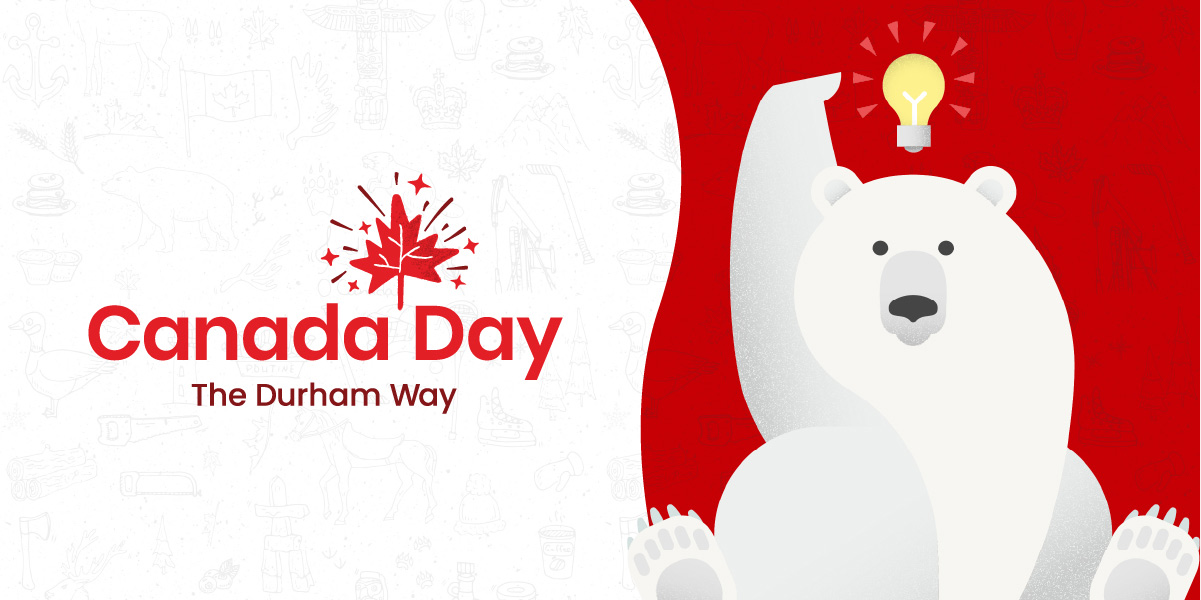 Ready to put your Canadian knowledge to the test? Celebrate our history, people and culture with 90 family-friendly questions about our home and native land. Bonus round includes trivia about the eight local-area Durham municipalities.
Watch together on a tablet or cast the trivia questions on your television for a unique game-show experience.
Good luck, eh!
Check back on June 18 for the official launch and additional information on how to access the trivia!
Scavenger Hunt
Grab the kids, your phone, take a walk, and have some fun in your own neighborhood with a neighbourhood scavenger hunt! Once live, follow a series of clues and/or questions and find the answers while getting outside, exploring and observing your surroundings.
Answers and/or photos can be submitted through an app for your chance to win a $50 gift certificate to a local Ajax restaurant.
Check back June 25 for the official launch and how to participate!
Virtual Presentations
Tune in on July 1 for three virtual shows - family, music and demonstrations. Sit down with your family and enjoy exciting performances by Brant the Fire Guy, Dan the Music Man and more! While enjoying the sunshine, be entertained by incredible musicians that will add that special something to the day. Looking for meal ideas? Our cooking demonstration segments will show you how to make a quick and easy Canada Day meal.
These segments will be available starting at 8 a.m. on July 1, right here on this page! Have family and friends around Durham? Residents can also access Canada Day portals from other regional municipalities at durham.ca/canadaday and can tune into RogersTV Durham in their local area.
Check back regularly for details on the show and a full line-up of what to expect!
Trailfest - On The Go! - June 21 to 28
From beginner to advanced, get out and explore Ajax's safe and connected trail system surrounded by rich natural settings. Whether you choose to explore on bike, by foot, or by wheelchair/scooter, our reimagined Trailfest - On the Go! will be a fun and safe way for your family to enjoy the great outdoors.
We'll keep you on course during this year's week-long adventure, running from June 21 – 28, using the Ride with GPS app available through your Google Play & App Store. Starting June 21, choose from a variety of ride and walk routes that you and your family can complete at any time during the week. At the end of the week, share your adventures with us for a chance to win 1 of 6 prizes (more information to be emailed after registration)!
Lights! Camera! Buzz In! – A Free Virtual Trivia Series presented by the St. Francis Centre
Do you think you're an expert on all things Disney? Do you catch yourself quoting lines from movies on a regular basis, or singing Broadway show tunes in the shower? Do you think of yourself as a bit of a music historian or pop culture guru?
Well, we've got just the thing for you!
The St. Francis Centre is pleased to present Lights! Camera! Buzz In! – a free virtual trivia series that will test your knowledge on a variety of fun themes. You'll go head to head with other players, trying to climb the leaderboard for some great prizes. Compete every month with themes like Disney, Broadway, Summer Blockbusters, Musical Decades and more!
It's brain bustin' time, Ajax!
Summer Blockbuster Trivia - Thursday, June 17 from 7 to 8 p.m.
Do you catch yourself quoting lines from movies? Have you seen every Marvel more than once, and then in chronological order? Do pirates, dinosaurs and light sabers make you giddy with excitement?
If you love Summer Blockbuster movies, and movies in general, then get ready to test that movie knowledge at our virtual trivia night! Go head to head with other players, trying to climb the leaderboard for some great prizes. Questions will be asked via AhaSlides.com over Zoom video, and you can submit your answers via smartphone or tablet.
Registration Information
Register as an individual or as a team with members from your household:
When registering, enter in a team name on the form and use the same team name in AhaSlides.com
Each team will require 2 internet-connected devices to play.
We recommend using a computer with a webcam to see the questions (via Zoom) and a mobile device (smartphone or tablet) to act as your "buzzer" to answer the questions on AhaSlides.com.
AhaSlides.com works best with the Google Chrome Web Browser.
You must register by 6 p.m. before the start of the game to confirm your spot.
Zoom and AhaSlides details will be sent prior to the event.
NOTE: Prizes will have a coordinated pick-up location at the Ajax Community Centre (75 Centennial Rd., Ajax)
After registering, you will receive a confirmation email with further instructions. You can download Zoom at zoom.us and select which version you would like to download, whether it be on a tablet, phone, or computer. We recommend using a laptop or computer for the Zoom session. Participants are then encouraged to use a smartphone or a tablet as their "buzzer". For technical assistance, please email Eric.Berkelmans@ajax.ca.
SunnyTOA - Show Your Community Spirit This Summer!
Ajax Council invites residents, businesses and community groups to participate in SunnyTOA! This special summer-long program is designed to lift spirits, foster connections and inspire hope while staying active and healthy!
Residents can get involved via three Covid-friendly activities: Participate Rejuvenate and Cultivate.
1. Participate – Spring Into Action Community Engagement Program and Photo Contest
An opportunity for families to have fun while gaining new skills at home! Each week of the 4 week campaign, team building challenges and creative game ideas will be provided. And don't forget to submit photos using #SunnyTOA to be entered into a draw for a participation pack courtesy of ParticipACTION. And don't miss out on your chance to win the grand prize – a child's mountain bike!
Week 1 - May 26 to 30 - Backyard Blitz - Activity Ideas
Week 2 - May 31 to June 6 - Ready, Set, Move - Activity Ideas
Week 3 - June 7 to 13 - Go Green - Activity Ideas
Week 4 - June 14 to 20 - Water Ways - Activity Ideas
Friend Sponsor
How Do I Enter The Photo Contest?
Follow the Town on Instagram at instagram.com/townofajax.
Take a photo of your activity – share how you're having fun at home.
Tag our IG account - @townofAjax and include #SunnyTOA
All entries will be entered into a draw for a participation pack courtesy of ParticipACTION. And don't miss out on your chance to win the grand prize – a child's mountain bike!
All entries will be shared on the Town's social media platforms.
2. Rejuvenate – Volunteer Eco Team Program
An opportunity for small volunteer eco teams to meet in a COVID-friendly way at various parks and trails throughout Ajax to beautify the Town via community clean-ups. Proper training and PPE for litter collection and sorting will be provided.
Please Note: New Volunteer Eco Teams will be formed starting mid-June.
3. Cultivate – The 'Best in Bloom' Garden Tour
Ajax is in bloom with beautiful gardens and spectacular flowers! Our front yard self-guided tour offers an opportunity to experience wonderful gardens created by residents and businesses. Whether by car, bike or foot, get outside and follow the flowers! An online interactive garden map allows residents and businesses to add their creative and beautiful locations.
Interested in having your home or business garden featured on our interactive map? Running throughout the summer, simply upload a photo of your garden and choose a category (residence or business), along with the address and dates that your home or business will be in bloom.
Locations can be added at any time, so be sure to check the map regularly to see the new additions!
Cultivate – The 'Best in Bloom' Garden Tour – Interactive Map and How to Use
Check out our interactive map!
Select an option below to enter a location or start your tour.
I want to pin my location as part of 'Best in Bloom' Garden Tour
Enter your location on the top bar "Find your location or address" and press magnifying glass search button.
Click the '+' symbol to add your home or business to the list.
Click on the flower icon that indicates whether you are entering a residence or business.
Click your location on the map, and a blue circle will appear.
Fill out the survey that appears on your screen which includes details about your location and dates of when your garden will be in bloom!
Add a photo of your beautiful blooms! Please note that once a location has been submitted, it cannot be edited.
Click Save! Your location has now been pinned as part of the tour.
I want to plan my 'Best in Bloom' Garden Tour Route
If you are looking for a specific house or business, type in the address on the top address bar. If that address has been included in the garden tour, a flower icon will appear. If you click on the flower icon, information about that particular location will show.
To select a list of locations within a specific radius/area of the town start by clicking the 'select locations' icon ()

Type in an address that you looking for and change the "Show results within" category to whatever distance radius you would like. Click 'Location List' to see the locations within that radius. Click Beautiful Blooms to expand the list.
Click on the tab "Select Points" and select a draw mode. Once an area on the map has been selected, a list will appear. Click Beautiful Blooms to expand the list.

To download a full list of locations, click on the view or export table icon () and follow the steps below:
Click the 'Options' tab on the right side and click on Export all to CSV.

Click OK and the list will download automatically.

Open file, click save as and as in desired location as an Excel Document.

Open as desired.
In-Person Events
No in-person events at this time.
Past Shows
Ajax on Stage – Virtual Talent Showcase – November 28
Cookies & Cocoa with Santa - Friday, December 4
St. Francis Centre 10th Anniversary Season Launch
Ajax Winterfest - Virtual Frosty Fun
Spirit Walk – Defence Industries Limited (D.I.L.)
Wednesday, July 15 -
Friendly Fables
Wednesday, July 22 –
Source Music
Wednesday, July 29 -
Comic Juggler, Craig Douglas
Wednesday, August 5 –
Country Music Duo, Jess & Tay
Wednesday, August 12 –
Chakde Bollywood
Wednesday, August 19 –
Durham Street
Wednesday, August 26 –
Enviro Drum
Wednesday, September 2 -
Jack Walker
Get Involved!
2021 Festivals and Events Entertainers - Apply Now!
Now accepting entertainer applications for all 2021 Festivals and Events. Whether you are a band, solo artist or children's entertainer, we want to hear from you!
Become a vendor or exhibitor at our festivals and events!
Due to COVID-19 we are not currently accepting any vendors or exhibitors. If you are interested in becoming a vendor for 2021 Festivals and Events, please send an email to events@ajax.ca as an expression of interest.
Become a sponsor at our festivals and events!
Become a sponsor of our upcoming Virtual and In-Person events. Please call 905-619-2529, ext. 7248 or email events@ajax.ca for more information.
Volunteer at our festivals and events!
Due to COVID-19 we are not currently accepting new volunteers at this time. To learn more about our volunteer program visit our Volunteer page.