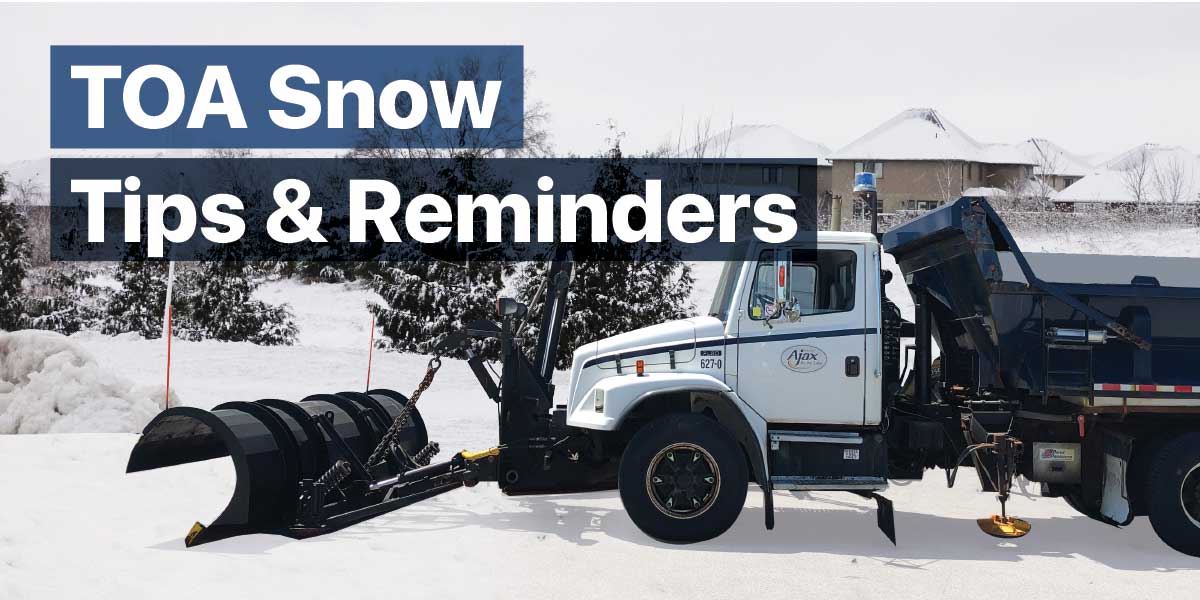 Snow control starts November 15
TOA By-Law Services and Operations teams are gearing to respond for snow and winter weather. During and after a snow storm, the Town has the responsibility of maintaining 370 km of road, 150 km of sidewalks, trails and emergency access roads, 27 parking lots and 53 school crossings, all in an effort to provide efficient and effective snow clearing services to ensure residents can safely travel around town.
Snow control starts November 15 and proactive patrols for vehicles on the street overnight begins on November 1, or at any time during an inclement weather event.
Important reminders for residents:
Vehicles may not be parked on TOA streets during winter storm events. Parked vehicles will be subject to fines and/or towing at the owner's expense.
TOA Occasional-use Parking Permit program permits are invalid in the event of a winter storm.
During winter storm events, the Town clears roadways from curb to curb on a priority basis.
You can follow the crews and their progress on our Plow Map at ajax.ca/plowmap
Please remember that unless you qualify for the Senior Snow Removal Program, clearing the snow from the end of your driveway (windrows) is the responsibility of the home owner.
Ice and snow must be removed from the sidewalk surrounding your home, within 24 hours of a snowfall.
The senior snow removal program is activated 24 hours after snow has stopped falling and there is more than 5 cm (2 inches) of snow.
Quick Facts
Residents and business owners should familiarize themselves with the rules. There is zero tolerance for on-street parking during a winter storm event, and vehicles will be subject to tagging and/or towing.
Snow clearing of roads, sidewalks and trails can take up to 16 hours to complete.
Super Mailboxes – the Town of Ajax does not perform snow removal operations around super mailboxes. Please contact Canada Post at canadapost.ca or by phone at 1-800-267-1177 for snow removal in this area.
Transit Shelters and Stops – Bus shelters and bus stops are the responsibility of the Region of Durham. Please contact the Region Transit Authority at 905-579-2471, if you have any questions regarding transit.
Learn More