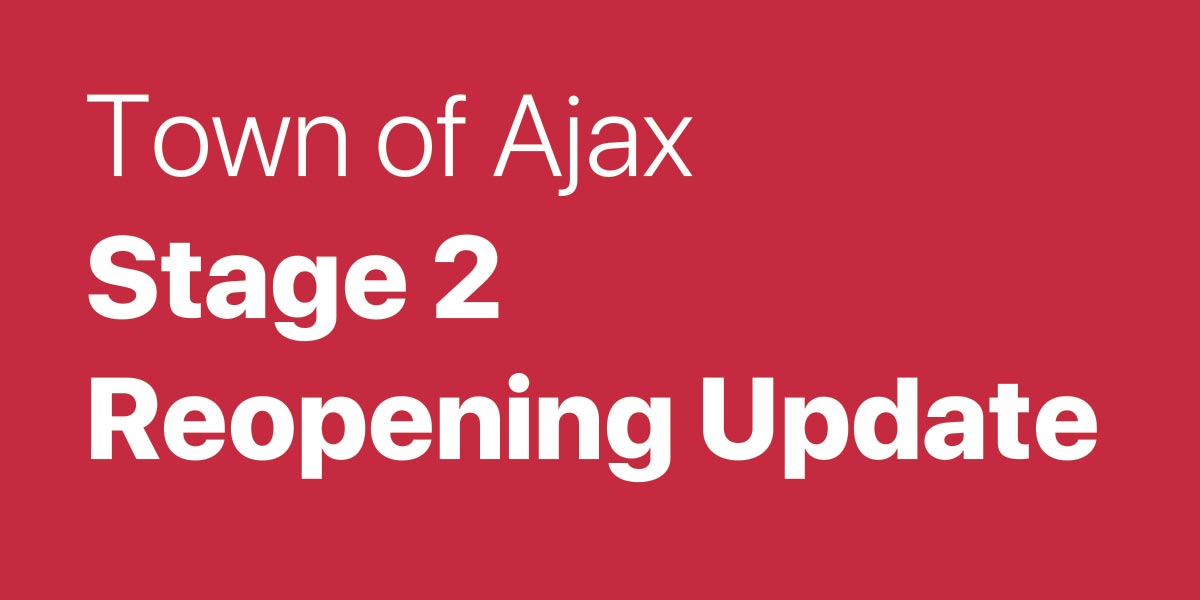 On June 15, 2020 the Durham Region Public Health Unit, which includes the Town of Ajax, was cleared to enter Stage 2 of the Province of Ontario's reopening framework.
The Town continues to take a measured and responsible approach to reopening amenities and facilities. We understand that residents are looking forward to utilizing public infrastructure. However, we need to balance reopening procedures while maintaining customer service levels, without straining our budget - which relies heavily on property tax dollars - to reduce any undue burden on our community.
The Province's reopening framework contains stringent, and important safety guidelines. Each set of guidelines has a cost for equipment, training, staffing and cleaning. The Town will not reopen any amenity until these measures can be met.
We continue to ask that our residents, businesses and visitors do their part; by maintaining appropriate physical distance, respecting closures until proper safety measures can be implemented, and depositing waste in receptacles or taking it home with you.
The Town endeavors to keep residents and businesses as informed as possible as amenities reopen. For the weekend of June 26:
Programming:
Summer Camps
In-person summer camps remain cancelled at this time. Staff are continually reviewing best practices and health guidelines to re-assess this decision. To give parents and caregivers options for summer programming, the Town has announced that we will be running virtual and take-away summer camp options. Registration for our Virtual camps begins June 29.
Re-Opening Amenities and Facilities:
Basketball Courts
Staff are moving forward with a plan to get basketball courts open throughout the Town. This will take approximately two weeks to complete, and will be opened in priority. Imagination Park and Audley Recreation Centre courts will be among the first to open. Check ajax.ca/COVID19 for updates.
Memorial Pool
We anticipate that Memorial Pool (outdoor, located beside Town Hall and Ajax Library Main Branch) will be operational in mid-July. Staff are working closely with Public Health and the Lifesaving Society to establish safe capacity, and ensure appropriate training and other safety measures. When the pool opens, an update will be posted to ajax.ca/COVID19.
Paradise Beach
Paradise Beach will reopen this weekend, and will be signed in accordance with Durham Health requirements. Temporary no parking signage has been installed on the south side of Lakeview Boulevard. If you plan to visit Paradise Beach, please walk or bike if you're able.
Skate Parks
Skate parks, including those at Audley Recreation Centre and McLean Community Centre, will be open this weekend. Physical distancing rules will be posted at each site. By-law Services will be proactively monitoring to ensure safety.
Splash Pads
Four splash pads are open for the weekend of June 26:
Horne Park
Carruthers Marsh
Rotary Park
McLean Community Centre
Occupancy maximums will be posted at each location. By-law Services will be proactively monitoring to ensure safety. High-touch points will be cleaned twice daily. Additional locations are expected to be open in the coming weeks.
Ajax Library
Ajax Library's Main Branch is now open by appointment to provide public use of computers for residents. Appointments are 45 minutes, leaving 15 minutes for cleaning and disinfecting before the next appointment. In addition, the library is offering curbside pickup to keep families reading over the summer. Please visit ajaxlibrary.ca for hours of operation.
QUICK FACTS
The Town of Ajax is permitted to enter Stage 2 of the Province of Ontario's reopening framework
The Town's Municipal Emergency Control Group and staff are working closely with Public Health to ensure amenities and facilities reopen in the safest way possible
The Town is committed to keeping the public informed as additional facilities and amenities reopen
For more information about what's open, and the Town's response to COVID-19, visit ajax.ca/COVID19.
MORE INFORMATION
MEDIA CONTACT
Rachael Matheson, Corporate Communications, 905-621-2278