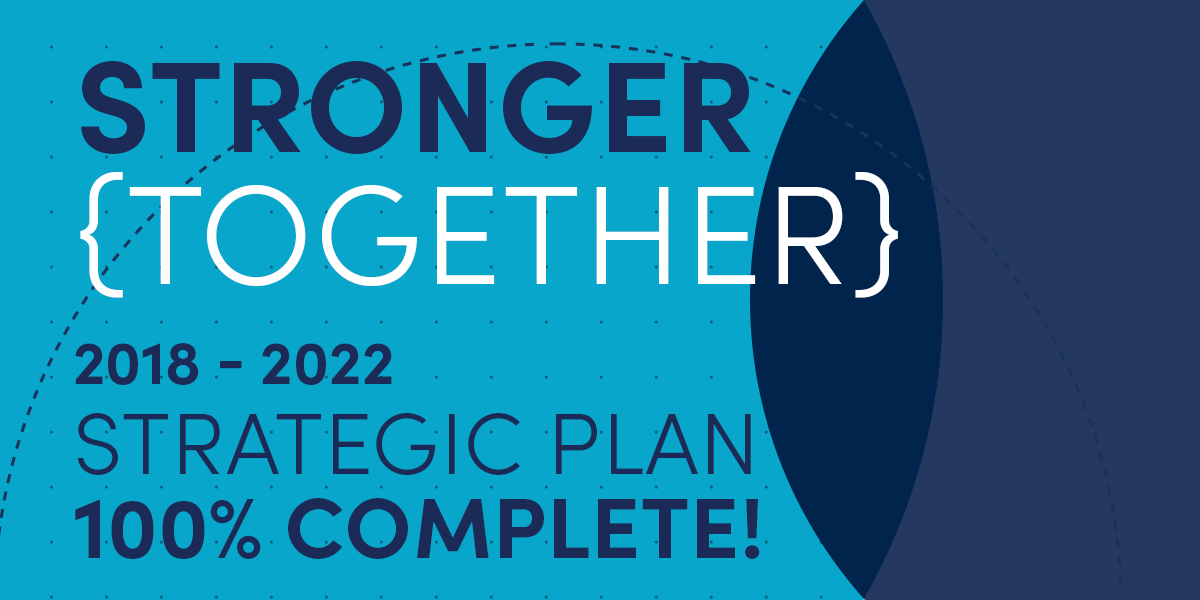 The Town of Ajax is excited to report 100% completion of the 2018-2022 Strategic Plan – Stronger Together, including the Top 22 by 2022 actions identified by the community.
Numerous bold priorities and actions were achieved, delivering real results for the long-term social, economic and environmental sustainability of the community.
The Strategic Plan sets priorities and guides Council decision-making for the term. Approved by Ajax Council in early 2019, the roadmap of actions proved invaluable during the height of the Covid-19 pandemic. The plan ensured the priorities of Council were being monitored and advanced. As a result, staff were able to quickly adapt and pivot work, resulting in a completion of 120 substantive and notable actions and hundreds of accomplishments over the term.
The foundation of the plan revolves around three focus areas: Connecting Our Community, Investing in Our Community and Leading in Our Community.
Connecting Our Community resulted in the completion of 42 actions. Some of these actions included elevating community engagement, excelling in customer service, promoting a sense of place and celebrating history, generating opportunities to promote inclusivity and encouraging various programs, services and supports for all ages.
Investing in Our Community resulted in the completion of 36 actions. Some of the actions included progressing and diversifying the local economy, supporting strategic land use development, developing new municipal infrastructure and modernizing the existing infrastructure and proceeding with key corporate reviews and strategies.
Leading in Our Community resulted in the completion of 42 actions. These actions included championing for intergovernmental matters that are important to our community, supporting local technology and entrepreneurial sectors, delivering continued leadership in environmental sustainability matters and growing as an age-friendly community.
Quotes
"In 2019, Ajax Council approved the Strategic Plan – Stronger Together for the 2018 – 2022 term. Ajax Council had a goal of attaining bold results for our community by the end of the term, and although some adjustments were made and some actions delayed due to the pandemic, Town staff persevered and pivoted their work to achieve the goals for our community. On behalf of Ajax Council, we are proud to have accomplished a 100% completion of this term's Strategic Plan. As we work together and embrace change, we can exceed results and prioritize togetherness within our community." - Mayor Shaun Collier, Town of Ajax
"I am very proud of all Town staff for achieving 100% completion for this term's Strategic Plan. This is a significant accomplishment that could not have happened without coming together as a team and a community, while adapting to significant change in our work environment and the way we do business in a pandemic. They delivered significant, tangible results within our three focus areas which reaffirms Ajax staff's resilience and dedication to our organization and community." - Shane Baker, CAO, Town of Ajax
Quick Facts
The approved 2018-2022 Strategic Plan included a community promise, three focus areas, 21 goals and 148 actions.
​In March 2021, the number of actions were reduced from 148 to 126 to accommodate the impact of the Covid-19 pandemic.
The final action count for the term is officially recorded as 120.
Final action charts (59-page listing of accomplishments) are available for review at ajax.ca/StrategicPlan

Some of the final top 22 actions included introducing new active transportation infrastructure and connections, celebrating our unique history and heritage and networking with community groups to raise awareness of our diverse programs and services.
Learn More